Elkhart Automotive Accessories by Ranch Hand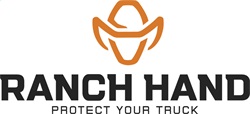 Ranch Hand automotive parts are available to you in Middlebury, IN at Dick's Auto Parts! Find all the Ranch Hand accessories you need including Bumper Guard, Bumper- Front, Bumper- Rear, Cargo Area Light, Fog Light Bracket, Grille Guard, License Plate Light, Skid Plate, Tool Box Lock Cylinder, Trailer Hitch, Truck Bed Rail-to-Rail Tool Box, Truck Bed Side Rail Protector, Truck Cab Protector/Headache Rack, Truck Step, Winch Mount Plate, and much more!
About Ranch Hand
The Ranch Hand logo has been recognized since 1986 as the symbol of quality. We have paved the way in the heavy-duty truck accessory market by setting our standards high in design, manufacturing and quality of our products. Ranch Hand offers a full line of quality truck accessories for full size Ford, Chevy, GMC and Dodge pickups and sport utility vehicles from half ton and up, including grille guards, front bumper replacements, back bumpers, headache racks, winch attachment systems, tool boxes, and steps. In addition, the Toyota Tundra, Sequoia, and Tacoma grille guards are now available as well as the Jeep Bullnose and back bumper. Each Ranch Hand product will come with the necessary mounting hardware and detailed mounting instructions.
About Dick's Auto Parts
Dick's Auto Parts has been in business for the past 25 years we also have been family owned and operated. We started out as a small Body Shop in 1979 and were offered the chance to sell parts and accessories in 1985. We then grew to become the largest in the Midwest to carry southern used truck beds and new takeoff parts. Dick's Auto Parts prides itself on offering you brands you can trust like Luverne, Reflexxion, AVS, Lund, Westin, Advantage, Extang, Kool Vue, Owens, Unique, Dee Zee, Bushwacker, Drawtite, Reese, Superspring, and more! Dick's Auto Parts offers a full line of Truck, SUV, CUV, Van, Car, and Jeep Parts and Accessories at a great quality price!