Elkhart Automotive Accessories by Rampage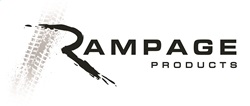 Rampage automotive parts are available to you in Middlebury, IN at Dick's Auto Parts! Find all the Rampage accessories you need including Brief Soft Top, Bumper- Front, Bumper- Rear, Car Cover, Center Console, Door Skin, Fuel Filler Door, Interior Accessories Kit, Nerf/Step Bar, Nerf/Step Bar Mount Kit, Seat, Spare Tire Cover, Tonneau Cover, Top-Soft, Wiper Blade, and much more!
About Rampage
Our continued commitment to service, quality and product innovation have established Rampage as a significant industry partner in the specialty Jeep, Truck, SUV and UTV marketplace. With this catalog, we present an expanded line up of both street and off road products as well as additional enhancements within each product category bringing you new designs, features and benefits to satisfy a wider range of consumers and their vehicle uses. Our team of industry enthusiasts not only use these products, but also contribute to the many new ideas you will find in the following pages - together we invite you to review our program, use our products, and join our growing family of satisfied customers.
About Dick's Auto Parts
Dick's Auto Parts has been in business for the past 25 years we also have been family owned and operated. We started out as a small Body Shop in 1979 and were offered the chance to sell parts and accessories in 1985. We then grew to become the largest in the Midwest to carry southern used truck beds and new takeoff parts. Dick's Auto Parts prides itself on offering you brands you can trust like Luverne, Reflexxion, AVS, Lund, Westin, Advantage, Extang, Kool Vue, Owens, Unique, Dee Zee, Bushwacker, Drawtite, Reese, Superspring, and more! Dick's Auto Parts offers a full line of Truck, SUV, CUV, Van, Car, and Jeep Parts and Accessories at a great quality price!