Middlebury Automotive Accessories by Lokar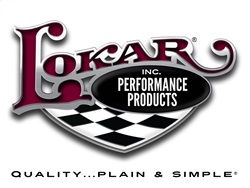 Lokar automotive parts are available to you in Middlebury, IN at Dick's Auto Parts! Find all the Lokar accessories you need including Accelerator Pedal Assembly, Auto Trans Dipstick, Auto Trans Kick Down, Auto Trans Shift Indicator, Auto Trans Shift Knob, Auto Trans Shifter Assembly, Brake and Clutch Pedal Pad Set, Brake Pedal Pad, Instrument Cluster, Manual Trans Shift Lever, Oil Dipstick, Parking Brake Cable, Parking Brake Kit, Throttle Cable, Throttle Cable Bracket, and much more!
About Lokar
Quality. Plain & Simple...Its that easy. Lokar bases their entire business on the simple ideals of manufacturing a quality product and providing quality service, before and after the sale. We will not compromise that ideal. Our commitment is to provide the automotive aftermarket enthusiast with the best possible products and service. We pride ourselves in the availability, reliability and versatility of all our products. When Lokar began its operation in 1988, the goals were simply to make a better product than what was available, and to design products which would be simpler to install, more versatile in application and affordable all at the same time. We continue to strive for those goals every day. We have been able to maintain quality control over the years by becoming more self-sufficient in the manufacturing process. Our facility houses nearly all of the manufacturing processes necessary to guarantee our customers a quality product. This includes CNC mills and lathes operated by factory trained machinists, to produce consistent quality aluminum and steel parts; welding and finishing work to guarantee the durability and finish of our products and assemblers and packers who are trained to provide you with the quality we expect. Our entire product line is assembled, packaged and shipped by a full time staff from our location. We are here to assist our customers after the sale too! Our technicians are trained to provide you with information to answer the simplest or most complicated questions, from application to installation to customization. We would like to extend a great big THANK YOU to all of our customers who have been the biggest part of our success and extend an invitation for you to continue your patronage with the promise that we will continue to serve you withQuality... Plain & Simple.
About Dick's Auto Parts
Dick's Auto Parts has been in business for the past 25 years we also have been family owned and operated. We started out as a small Body Shop in 1979 and were offered the chance to sell parts and accessories in 1985. We then grew to become the largest in the Midwest to carry southern used truck beds and new takeoff parts. Dick's Auto Parts prides itself on offering you brands you can trust like Luverne, Reflexxion, AVS, Lund, Westin, Advantage, Extang, Kool Vue, Owens, Unique, Dee Zee, Bushwacker, Drawtite, Reese, Superspring, and more! Dick's Auto Parts offers a full line of Truck, SUV, CUV, Van, Car, and Jeep Parts and Accessories at a great quality price!